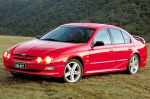 A show car shine is pretty hard to resist. It's also pretty hard to achieve. At CarSparkle we pride ourselves on giving your car the show car shine by providing you with the benefit of our extensive car detailing experience and through our use of the famous Meguiar's car detailing products.
We have found giving your car the Maguire's treatment with CarSparkle brings that amazingly deep and vibrant colour people associate with "new cars" and "show cars".
CarSparkle is also able to remove unsightly swirls from your cars paintwork in many instances – even on darker coloured cars.
Your car ages, just like us us humans do, and just like us they simply don't keep the same cosmetic beauty of their youth. With the effect of sun, wind and rain your cars paint finish fades and even a regular wash simply fails to do the car justice. A show car shine breaths new life into your car.
That's where Maguire's carnauba technologies work to bring back your car's paint to a sparkling gloss, that is extremely difficult to achieve yourself.
The process with a thorough clean that prepares the surface in order to enhance the brilliance and gloss of your paint finish. Attention to detail needs to be paid at each step. This includes the glass, plastic & exterior trim. Your wheels and tyres need attention too. All this means a high pressure spray, a high pressure rinse, and the interior vacuumed. Not forgetting your ashtrays and the exterior finished with a chamois dry.
A cut and polish is applied as needed, taking care to select the appropriate grade before polishing begins. Paint correction means most common scratches and imperfections are removed leaving a smooth high gloss finish.
Next a hand buff means you will actually be able to see the difference when the whole process if finished. A "Final Inspection" product should applied in order to remove any unwanted residue.
CarSparkle's Complete Sparkle means the interior gets deserved attention too. That means seats and carpets cleaned and shampooed, dashboard and console cleaned, mats detailed plus the door rubbers and jams.
To complete a professional job the engine bay and under-hood are cleaned, wheel arches are cleaned, chrome polished and your tyres given a gloss.
Whether you are selling your car, have a special event coming up soon or wish to protect your investment get a free quote on CarSparkle's Complete Sparkle
Call CarSparkle: 0416 237 345